About the front cover of Nassau Circle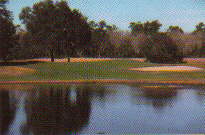 The murder mystery thriller
by James Ray Chapman
This book is a great gift for any golfer!
17th hole at The River Club on The Ashley (King's Grant)
The golf hole depicted on the cover is the 17th hole of The River Club on the Ashley near Summerville, S.C., where the author lived for 30 years.
This is the "Signature Hole" of the course and it will "eat your lunch"! Set on the banks of the Ashley River, it slopes invitingly from back to front with a level area to the river. But it is easy to put a ball in the river. Hit it with backspin and it won't stay on the green.
The wind along the river always swirls deceptively. It is a super hole. You should play it!


---

Home | Orders | Front | Back | Inside Front | Inside Back | 17th Hole | Links | Awards
---


Back to top of Home Page for the murder mystery novel Nassau Circle!
E-mail testimonials about Nassau Circle by author James Ray Chapman!
Cast vote for Nassau Circle on the Top 50 Award Winning Web Site List!
Photos copyright © 2000 by James R. Chapman - author of Nassau Circle.
Design copyright © 2006 by Bob Chapman (webmaster@nassau-circle.com)
Site maintained by Award Winning Web Site Designs. All Rights Reserved.